See on Scoop.it – Transparenc Market Research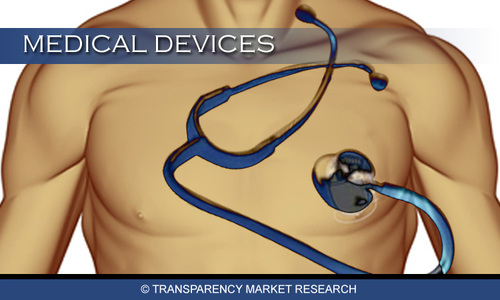 [92 Pages Premium Report] Blood Pressure Monitoring Testing Market (Sphygmomanometer, Automated Blood Pressure Monitors, Ambulatory Blood Pressure Monitors, Blood Pressure Transducers and Blood Pressure Instrument Accessories) – Global Industry Analysis,…
Transparency Market Research's insight:
Transparency Market Research is Published new Market Report " Blood Pressure Monitoring Testing Market (Sphygmomanometer, Automated Blood Pressure Monitors, Ambulatory Blood Pressure Monitors, Blood Pressure Transducers and Blood Pressure Instrument Accessories) – Global Industry Analysis, Size, Share, Growth, Trends and Forecast, 2013 – 2019," the global blood pressure monitoring testing market was valued at USD 1,713.3 million in 2012 and is estimated to reach a market worth USD 3,661.3 million in 2019 at a CAGR of 11.5% from 2013 to 2019.
Browse the full report with complete TOC at http://www.transparencymarketresearch.com/blood-pressure-monitoring-market.html
Hypertension is one of the leading causes of heart diseases and strokes globally. The exact cause of high blood pressure is unknown but it develops with changing lifestyle and growing age. Rise in prevalence of high/low blood pressure is attributed to sedentary lifestyle, lack of physical activity geriatric population and rising stress. Blood pressure monitors are widely used by physicians in clinics, hospitals and even by patients themselves at home for self-monitoring. With the rising incidence rate of hypertension there is an increase in awareness about monitoring techniques, creating a substantial rise in demand for blood pressure monitoring devices. There are various social, behavioral and metabolic factors that determine and contribute to the development of high blood pressure (hypertension).
The blood pressure monitoring and testing market can be segmented as sphygmomanometers, automated blood pressure monitors, ambulatory blood pressure monitors, blood pressure transducers, and blood pressure instrument accessories. Manufacturers are coming up with new and innovative digital blood pressure monitoring devices that are easy to use and provide accurate readings instantly. The digital sphygmomanometers market is expected to grow at a faster rate compared to other types of sphygmomanometers (mercury and aneroid) as they are easier to use and provide comparatively accurate results.
Technological advancement is another important factor responsible for the growth of this market. mHealth is the new technological breakthrough in the healthcare market, where ubiquitous mobile technology supports the growth and successful implementation of mobile technology in healthcare industry. Prevention and early detection are the important factors for regular monitoring. Hence, mobile and portable devices would help the patient population to monitor their parameters. Devices when connected wirelessly would automatically transmit the required data of the patients to healthcare professionals.
Related & Recently Published Reports by Transparency Market Research
Intelligent Transportation System (ITS) Market: http://www.transparencymarketresearch.com/intelligent-transportation-system-market.html
Acetic Acid Market: http://www.transparencymarketresearch.com/acetic-acid-market.html
Elderly and Disabled Assistive Devices Market:http://www.transparencymarketresearch.com/elderly-disabled-assistive-devices.html
Solar Trackers (Single Axis and Dual Axis) Market:http://www.transparencymarketresearch.com/solar-trackers-market.html
Maleic Anhydride Market For Unsaturated Polyester Resins: http://www.transparencymarketresearch.com/maleic-anhydride-market.html
The North American market accounted for the largest share of more than 40% in 2012 and is expected to dominate the market during the forecasted period. This accelerated growth is mainly due to rising population, sedentary lifestyle, increasing stress and changing lifestyles. It is estimated that one in every three Americans suffer from hypertension and an individual is three times more susceptible to heart diseases when suffering from hypertension. The Asia-Pacific region is expected to grow at the highest CAGR of over 12% from 2013 to 2019, due to expanding population base coupled with a sedentary lifestyle, triggering growth in this region. Prevalence of high blood pressure is more rampant in low or middle income countries as compared to high-income countries due to a growing number of people with undiagnosed, uncontrolled and untreated high blood pressure.
The blood pressure monitoring testing market is presently witnessing intense competition from the key market players. To gain a proficient market share, manufacturers are coming up with cost effective, easy to use and innovative products. The prominent companies in the global blood pressure monitoring testing market include A&D Medical, GE Healthcare, Omron Healthcare, Philips Healthcare, SunTech Medical among others.
See on www.transparencymarketresearch.com