See on Scoop.it – Transparenc Market Research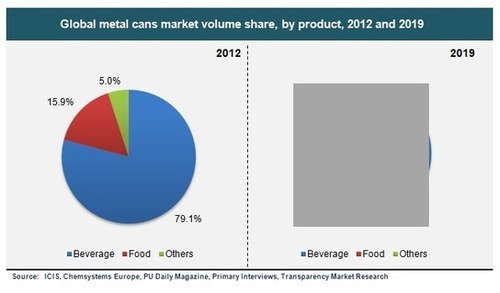 [72 Pages Premium Report] Metal Cans Market for Foods (Fruits, Vegetables, Soups and Others), Beverages (CSD, Alcoholic Beverages, New Drinks, Fruit and Vegetable Juices) – Global Industry Analysis, Size, Share, Growth, Trends and Forecast, 2013 -…
Transparency Market Research's insight:
Transparency Market Research is Published new Market Report "Metal Cans Market for Foods (Fruits, Vegetables, Soups and Others), Beverages (CSD, Alcoholic Beverages, New Drinks, Fruit and Vegetable Juices) – Global Industry Analysis, Size, Share, Growth, Trends and Forecast, 2013 – 2019," the global market for metal cans was USD 43.81 billion in 2012 and is expected to reach USD 51.60 billion in 2019, growing at a CAGR of 2.4% from 2013 to 2019. In terms of volume, the market was 344.48 billion cans in 2012 and is expected to grow at a CAGR of 2.9% from 2013 to 2019.
Browse the full report at http://www.transparencymarketresearch.com/metal-cans-market.html
With numerous benefits associated with metal cans such as its long shelf life, recyclability, biodegradability, UV ray and bacterial protection, excellent printability and its ability to retain flavor and aroma, they are being increasingly preferred by the customers as against other traditional packaging materials such as glass. In addition, high recycling and recovery rate is a major factor augmenting the growing demand of metal cans. Aluminum cans are said to save 95% power when recycled in contrast to production of new cans. However, fluctuating raw material prices and increased usage of flexible packaging materials such as Polyethylene terephthalate (PET) and paper are the major factors that are expected to restrain the growth of metal cans market.
Beverage cans was the largest consumed product accounting for over 75% of the global metal cans consumption in 2012. This segment is expected to be the fastest growing segment over the forecast period owing to increasing demand of carbonated soft drinks and alcoholic beverages. However, energy and sports drinks are expected to show substantial growth within the beverage can market over the next six years. The food can market is expected to witness below average growth owing to the consumer preference towards fresh and organic food products.
Europe was the largest consumer of metal cans consuming over 109 billion cans in 2012 followed by North America. The increasing consumption of alcoholic beverage, especially beer in parts of Eastern Europe is expected to greatly impact the demand for metal cans in this region. Asia Pacific is expected to witness fastest growth over the forecast period on account of increased manufacturing activities in this region owing to lower labor and material cost. China and India are expected to dominate the metal cans market in this region over the next few years.
Some of the key participants profiled in the report include Amcor, BWAY, Ball Corporation, Crown Holdings and Rexam Plc among others.
The report gives a comprehensive view of the metal cans market in terms of volume and revenue. In addition, the report includes current demand analysis and forecast for each product in North America, Europe, Asia Pacific and Rest of the World. The report comprises of the following segments:
Metal Cans Market: Product Segment Analysis
BeverageFoodOthers (Aerosol, Paints)
Beverage Cans Market: Product Segment Analysis
Carbonated Soft drinksAlcoholic BeveragesFruit and Vegetable JuicesNew Drinks (Energy and Sports Drinks)
Food Cans Market: Product Segment Analysis
Fruits (excluding Juices)VegetablesSoups and Miscellaneous FoodsOther Foods (Baby Foods, Poultry)
The report provides a cross-sectional analysis of all the above product segments with respect to the following regions:
North AmericaEuropeAsia PacificRest of the World (RoW)
See on www.transparencymarketresearch.com