See on Scoop.it – Transparenc Market Research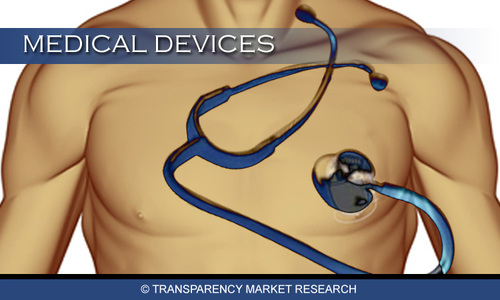 [114 Pages Premium Report] Drug Device Combination Products Market (Drug Eluting Stents, Infusion Pumps, Photosensitizers, Orthopedic Combination Products, Wound Care Combination Products, Inhalers, Transdermal Patches, Intraocular Implants and Drug…
Transparency Market Research's insight:
Transparency Market Research is Published new Market Report "Drug Device Combination Products Market (Drug Eluting Stents, Infusion Pumps, Photosensitizers, Orthopedic Combination Products, Wound Care Combination Products, Inhalers, Transdermal Patches, Intraocular Implants and Drug Eluting Beads)- Global Industry Analysis, Size, Share, Growth, Trends and Forecast, 2013 – 2019," the global drug device combination productsmarket was valued at USD 66.0 billion in 2012 and is expected to grow at a CAGR of 7.9% from 2013 to 2019, to reach an estimated value of USD 115.1 billion in 2019.
Source : http://www.transparencymarketresearch.com/drug-device-combination.html
Drug device combination products are therapeutic products that combine a drug and a medical device chemically and/or physically, to beproduced as a single product. These products can be designed for local as well as systemic drug delivery.With the advances in medical technology, medical devices have changed their definition to more complex devices which assist in improving the efficiency of drugs in therapeutic treatments.These innovations have also made it difficult for regulatory agencies to classify and provide guidelines for safety and validation of these products.Newer developments in drug device combination products have yielded several products for targeted drug delivery within the body. Clinical trials for drug device combination products are more comprehensive and expensive coupled with complications as compared to those required for individual drug and device.
Growing elderly population combined with rise in risk for cardiovascular diseases, asthma and various other chronic disorders contribute to the growth of this market particularly in emerging economies of Middle East, India and China. Moreover, technological advancessuch as biodegradable implants coupled with increase in access and recognition of these technologies in emerging market, will serve as an opportunity for investors to invest in.
The global market for drug device combination products has been studied from the perspective of current widely used various product types.The report provides a detailed analysis of drug eluting stents which are segmented into coronary stents and peripheral vascular stents while the infusion pumps include implantable infusion pumps and ambulatory infusion pumps. Inhalers include metered dose inhalers, dry powder inhalers and nebulizers. The others segment comprises intraocular implants and drug eluting beads. The market estimations for transdermal patches, orthopedic combination products such as bone graft implants and antibiotic loaded bone cements, wound care combination products and photosensitizers have also been provided in the report for the forecast period 2013-2019.
The overall market for drug device combination products is fragmented owing to number of small players involved in respective product segments. In 2012, transdermal patches accounted for the largest share by revenue at USD 25.1 billion of the total drug device combination products market. However, due to the product recalls and consequent stringent regulatory approval procedures, the overall market revenue is expected to decline during the forecast period in the U.S and Europe.The market for inhalers accounted for the second largest share at over USD 20billion in 2012. It is estimated that the global market for inhalers will grow at a CAGR of over 8% from 2013 to 2019, owing to its high incidence rates of asthmatic and chronic obstructive pulmonary disease (COPD) patients.
Geographically, North America dominatedthe global market for drug device combination products in terms of revenue generation and is expected to maintain its position throughout the forecast period. Theadoption of drug eluting stents, implants, growing elderly population and rise in incidences of hypertension and obesity in the U.S., is expected to contribute to the leadership of the North American market. Europe was the second largest regional market for drug device combination productsin 2012, owing to the increased demand for drug eluting stents and infusion pumps.
The global drug device combination products market is dominated by few major players including Boston Scientific Corporation, Medtronic, Inc., Abbott Laboratories, Inc., CareFusion Corporation and Allergen, Inc.
The global drug device combination products marketis segmented as follows:
Drug Device Combination Products Market, by Product Type
Drug Eluting Stents Coronary StentsPeripheral Vascular StentsInfusion Pumps Implantable Infusion PumpsAmbulatory Infusion PumpsPhotosensitizersOrthopedic Combination Products Bone Graft ImplantsAntibiotic Loaded Bone CementWound Care Combination ProductsInhalers Metered Dose InhalersDry Powder InhalersNebulizersTransdermal PatchesOthers Intraocular ImplantsDrug Eluting Beads
Drug Device Combination Products, by Geography
North AmericaEuropeAsia-PacificRest of the World (RoW)
Table of Content
Chapter 1 Introduction
1.1 Report Description
1.2 Market Segmentation
1.3 Research Methodology
1.3.1 Secondary Research
1.3.2 Primary Research
1.3.3 Statistical Models
1.3.4 List of Abbreviations
1.3.5 Assumptions and Stipulations
Browse the full report with complete TOC at http://www.transparencymarketresearch.com/drug-device-combination.html
See on www.transparencymarketresearch.com