See on Scoop.it – Transparenc Market Research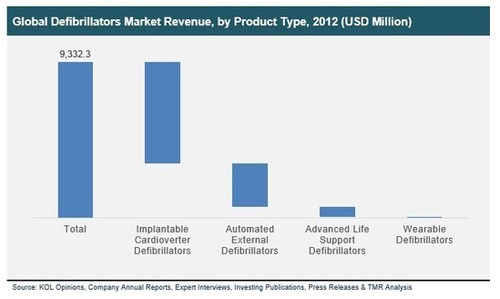 82 Pages Premium Report Defibrillators Market (Advanced Life Support, Automated External Defibrillators, Implantable Cardioverter Defibrillators, Wearable Defibrillators) – Global Industry Analysis, Size, Share, Growth, Trends and Forecast, 2013 – 2019 – Defibrillators Industry Overview, Market Segmentation Report, Leaders, Future, Demand, Opportunities, Sales, Company Profiles and Research Insights – Transparency Market Research
Transparency Market Research's insight:
Transparency Market Research "Defibrillators Market (Advanced Life Support, Automated External Defibrillators, Implantable Cardioverter Defibrillators, Wearable Defibrillators)- Global Industry Analysis, Size, Share, Growth, Trends and Forecast, 2013 – 2019," the global defibrillators market was valued at USD 9.3 billion in 2012 and is expected to grow at a CAGR of 6.2% from 2013 to 2019, to reach an estimated value of USD 14.2billion in 2019.
Browse Global Defibrillators Market Report with Full TOC at http://www.transparencymarketresearch.com/defibrillators-market.html
Defibrillator devices are used to treat life-threatening cardiac arrhythmias, particularly ventricular fibrillation and pulseless ventricular tachycardia. These devices provide an electrical shock, having energy 40 – 400 Joule, to the heart muscles which terminates the arrhythmia and restores the normal sinus rhythm in the heart. Since the defibrillator devices are very useful in preventing deaths due to sudden cardiac arrest (SCA), the large number of SCA incidences across the globe is the major driver for the growth of this market.
Growing incidences of cardiovascular diseases and disorders combined with aging of baby boomer population in the U.S. are contributing to the growth of the global defibrillators market.Furthermore, the market is more driven by demand from emerging countries from Asia-Pacific and the Middle-East. Increasing trend towards installations of AEDs at workplaces by businesses is expected to serve as a good opportunity for the growth of global defibrillators market.
The global defibrillators market has been segmented on the basis of product types, end-users and geographic regions. On the basis of defibrillator types, the market is divided into advanced life support (ALS) defibrillators, automated external defibrillators (AEDs), implantable cardioverter defibrillators (ICDs) and wearable defibrillators. In 2012, implantable defibrillator devices accounted for the largest share by revenue of the global defibrillators followed by ALS defibrillators.The global rise in the healthcare infrastructure which include state-of-the-art hospitals and ambulances equipped with advanced medical devices is seen as a driver for ALS defibrillator segment.
The report also provides market estimations for the end-users of defibrillator devices during the forecast period of 2013 to 2019. The market has been categorized on the basis of end-users into five major segments, namely, hospitals, home, public access, emergency medical services and business workplace. In 2012, the hospitals as an end-user category shared more than 90%of the global defibrillator market.Other segments which are expected to grow rapidly during the forecast period are public access and business workplace. The government initiatives for creating awareness about the usefulness of AEDs in SCA will be the crucial factor for the growth of this market. Although the FDA initiatives to tighten the AED approval process, through pre-market approval (PMA), are likely to impact the market negatively, the grace period implementing changes is considerable enough for manufacturers in the defibrillators market.
Geographically, North America is the largest market for defibrillator devices and is expected to retain its top position throughout the forecast period. The rising awareness about the SCA and defibrillators in the USA and Canada is contributing to overall growth of defibrillators market in the region. In addition, legislations requiring installation of AEDs for public access and 'Samaritan Laws' providing immunity to first responders are driving factors for the market.Europe was the second largest market for defibrillator devices in 2012. During the forecast period, 2013 to 2019, Asia-Pacific and Middle-East are expected to grow at a faster pace than North America and Europe owing to the large patient base, increasing incidences of cardiovascular diseases and rising per capita expenditure on healthcare. The strengthening of economies in the Asia-Pacific and the subsequent rise in the healthcare infrastructure are propelling the market for defibrillators in this region.
The global defibrillators market is dominated by few major players such as Boston Medical Corporation, Medtronic, Inc. Philips Healthcare, St. Jude Medical, Inc. and Zoll Medical Corporation (a subsidiary of Asahi Kasei Corporation).
The global defibrillators market is segmented as follows:
Global Defibrillators Market, by Product Category
Advanced Life Support (ALS) DefibrillatorsAutomated External Defibrillators (AEDs)Implantable Cardioverter Defibrillators (ICDs)Wearable Defibrillators
Global Defibrillators Market, by End-Users
HospitalsHomePublic AccessEmergency Medical ServicesBusiness Workplace
Global Defibrillators Market, by Geography
North AmericaEuropeAsia-PacificMiddle-EastLatin AmericaAfrica
Related & Recently Published Reports by Transparency Market Research

Sterilization Equipment and Disinfectants Market (By Sterilization Equipment Type – Heat Sterilization, Low Temperature Sterilization, Filtration Sterilization and Radiation Sterilization,By Disinfectants Type-Low, Intermediate and High level and Oxidizing and Non-Oxidizing and By Applications- Medical Devices, Pharmaceuticals and Life-Sciences) – Global Industry Analysis, Size, Share, Growth, Trends and Forecast, 2013 – 2019

http://www.transparencymarketresearch.com/sterilization-equipment-market.html

Sterilization equipment and disinfectants are essential procedures for infection control in healthcare facilities such as hospitals, clinics and laboratories. Increase in hospital acquired infections has compelled medical professionals to take strict regulatory actions to cure these infections with the use of various sterilization equipment and disinfectants. This factor will trigger the growth of sterilization equipment and disinfectants market during the forecast period. In addition, rise in geriatric population and increase in the number of surgeries performed at hospitals and clinics will further drive the growth of this market. The market for sterilization equipment can be segmented as: by product (heat, low temperature, radiation and filtration sterilization) and by application (life sciences, medical devices and pharmaceuticals). The disinfectants market has been segmented based on types (low, intermediate and high level, oxidizing and non-oxidizing disinfectants). The report includes market estimations in terms of revenue (USD million) for the global sterilization equipment and disinfectants market for the period 2011 to 2019, considering 2012 as the base year. The report also provides the compounded annual growth rate (% CAGR) for the forecast period 2013 to 2019 for all the aforementioned segments and sub segments. In addition, current market trends and recent developments have been taken into consideration while determining the growth rate of the global sterilization equipment and disinfectants market.

Market forecast in terms of value (USD million) for the period 2013 to 2019 has been provided for four major geographic regions: North America, Europe, Asia-Pacific and Rest of the World (RoW). Detailed qualitative analysis of the factors responsible for driving and restraining the growth of the sterilization equipment and disinfectants market and future opportunities are provided in the report. PESTLE analysis has also been done while estimating individual geographies in order to provide current as well as future status. A list of recommendations for existing as well as new entrants has been discussed in the study to help in decision making.
About Us
Transparency Market Research is a global market intelligence company, providing global business information reports and services. Our exclusive blend of quantitative forecasting and trends analysis provides forward-looking insight for thousands of decision makers. We are privileged with highly experienced team of Analysts, Researchers, and Consultants, who use proprietary data sources and various tools and techniques to gather, and analyze information.
Our data repository is continuously updated and revised by a team of research experts, so that it always reflects the latest trends and information. With a broad research and analysis capability, Transparency Market Research employs rigorous primary and secondary research techniques in developing distinctive data sets and research material for business reports.
Contact
Sheela AK
90 Sate Street, Suite 700
Albany, NY 12207
Tel: +1-518-618-1030
USA – Canada Toll Free: 866-552-3453
Email: sales@transparencymarketresearch.com
Web: http://www.transparencymarketresearch.com/
Browse all Medical Devices Market Research Reports @ http://www.transparencymarketresearch.com/medical-devices-market-reports-6.html
See on www.transparencymarketresearch.com